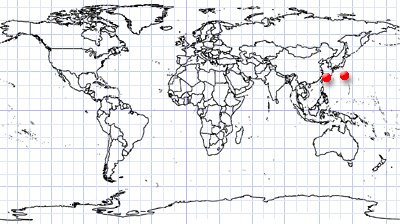 Japan & Korean Peninsula | East Asia
Dates of acquisition:
August 1st, 2023  |  01:39:10 UTC
August 2nd, 2023 |  02:20:33 UTC
August 3rd, 2023 |  01:48:54 UTC
August 11th, 2023 |  00:39:19 UTC
Sensors:  Sentinel-3A SLSTR, Sentinel-2B L2A, Sentinel-3B OLCI, Sentinel-3A OLCI
Coordinates:     26°N, 126.5°E
Typhoon Khanun was a powerful, erratic and long-lived tropical cyclone that moved along Okinawa, Japan and the western coast of the Korean Peninsula. Khanun was the third typhoon to hit East Asia in the past few weeks.
The typhoon started east of the Philippines on July 27 as a tropical depression; on 28 July it was classified as a tropical storm and then  as a Category 1 typhoon on 30 July. On July 31, Khanun reached category 4 on the Saffir-Simpson scale with sustained winds of 130 mph. On August 1it even  reached 140 miles per hour. On August 2, the eye of the typhoon was- by a lucky chance –  inside the orbit of Sentinel-2 (see Fig. 3), which made it possible not only to determine its size (with a diameter of about 30 – 31 km it occupied an area of more than 700 km2), but also to "look" inside and make a spectacular image. An image taken on August 2 (see Fig. 2) in a false color composite on 12-11-3 shows the relative height of the clouds (purple above cyan). On August 3, the typhoon was completely within  the orbit of Sentinel-3 OLCI (Fig. 1). One day later (August 4), Khanun weakened to a tropical storm with constant winds of 75 mph, gusts of 110 mph and a pressure of 965 hPa.
Meanwhile, the next strong typhoon "Lan" developed in the south of the Japanese Islands (Fig. 4). On the evening (Japanese time) of August 11, its intensity was very strong, central pressure: 940 hPa, maximum sustained wind: 90 kt, maximum wind gust: 130 kt. eye diameter – ca. 40km (26.9°N, 142.9°E).
Images contain modified Copernicus Sentinel Data [2023].