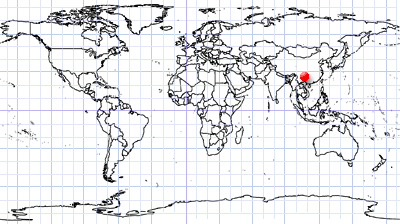 Guizhou province

| South China
Dates of acquisition:
July 27th, 2021  |  03:41:06 UTC
July 17th, 2021  |  03:41:06 UTC
Coordinates:     ca. 25.6525°N, 106.8567°E
The Sentinel-2 image shows the chinese radio telescope FAST – Five-hundred-metre Aperture Spherical Telescope, nicknamed Tianyan (天眼, Celestial Eye). It is located in the Dawodang depression in Guizhou province in southern China (25.6525°N, 106.8567°E). When completed and commissioned in 2016 and put into operation, FAST became the world's largest filled-aperture radio telescope, with a diameter of 500 meters. The effective reflector diameter used for observations at any given time is 300 meters. The FAST telescope has a fixed main reflector in a natural karst depression that reflects radio waves to a receiver suspended 140 meters above it. The radio telescope will allow scientists to study the formation and evolution of galaxies, dark matter and other scientific problems.