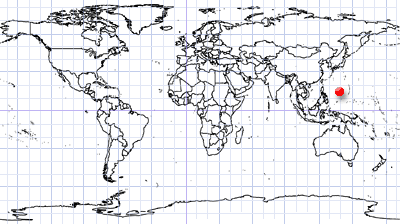 Western North Pacific Ocean
Date of acquisition:    May 26th, 2023  |  00:38:44 UTC
Sensor:  Sentinel-3A OLCI
Coordinates:     15.096°N, 139.068°E
In late May 2023, one of the strongest typhoons in recent decades, typhoon Mawar, equivalent to at least a Category 4 hurricane, hit the island of Guam and the Marianas in the western North Pacific. Although Guam is located at a latitude and in an area prone to the worst tropical cyclones, a direct hit by a storm of this magnitude is extremely rare, occurring only about eight times in the last 75 years.
The Sentinel-3 image shows the state of the typhoon on May 26th. On that day, its centre was located over the sea, about 1,750 km east-southeast of the Philippines, with gusts of up to 260 km/h, maximum sustained winds of 298 km/h near the centre, and a central pressure of 905 hPa. Strong to typhoon-force winds extend outwards up to 550 km from the centre. The typhoon's eye had a  diameter of 50 km. The image was created based on data from Sentinel-3, band 19 and the RGB (19-14-13).
Typhoon Mawar then moved towards the northernmost Philippine Island of Luzon, where it caused severe gale-force winds, rainfall, and flooding. It was the strongest storm of 2023to hit the Philippines. However, it then shifted northwest toward the island of Taiwan and moved northeast towards the southern Japanese Islands, where it began to weaken on June 2nd.