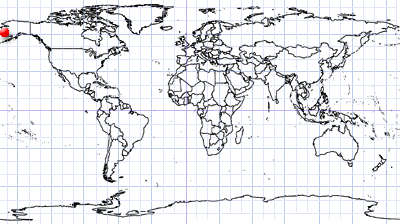 Date of acquisition:    June 6th, 2022 |  22:28:31 UTC
Coordinates:    61°N, 164°W
The Sentinel-2 satellite image shows the delta of the Yukon River, which flows into the Bering Sea on Alaska's west coast at its confluence with the Kuskokwim River. Capturing an area of about 130 thousand square kilometers this is one of the largest deltas in the world. It is even larger than the Mississippi Delta and comparable in size to the entire US state of Louisiana (in an European context: about one and a half times the size of Austria).
The delta consists mainly of swampy tundra with many small lakes, ponds and rivers; of bare tidal flats and sandbars inundated by saline tides, and thousands of miles of coastline jagged by the mouths of many rivers and bays.
The delta is protected as part of the Yukon Delta National Wildlife Refuge.