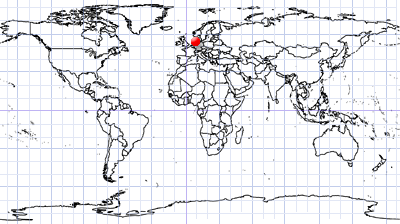 Date of acquisition:    May 9th, 2022  |  10:36:02 UTC  and May 12th, 2022 | 10:46:00 UTC
Coordinates:    54°N, 9°E
The mouth of the Elbe river in the Wadden Sea can be seen on the two satellite images shown. The images were taken at the same time of day but with a three-day difference. While on one image (left) the tidal flats are still largely covered by water, on the second image (right) the Sentinel-2B sensor was able to record the completely dry-fallen tidal flats. Due to the fact that the satellite's overflight must always coincide exactly with low tide and it also has to be more or less cloudless, it is relatively rare to get such a good image of intertidal flats.
With it's 7,500 years of existence, the Wadden Sea of the North Sea is a geologically very young landscape. As a result of the Ice Ages, the North Sea coast is mostly made up of sand and moraines. Important conditions for the formation of the Wadden Sea are the rise in sea level, but also a steady inflow of sediment from rivers and sea currents. The tideland is flooded twice a day during high tide and dries up again at low tide, with the water often draining away through deep streams (tidal creeks).
Thus, this site is a highly dynamic area with a multitude of transitional habitats comprising tidal channels, sandy shoals, sandbars, mudflats, seagrass meadows, mussel beds, saltmarshes, estuaries, beaches, and dunes. Its physical characteristics provide the base for a high primary productivity, which in turn leads to a high biodiversity and makes the Wadden Sea an important site for bird migration.
The Wadden Sea of the North Sea is the largest unbroken system of intertidal sand and mud flats in the world. The region covers the Dutch Wadden Sea Conservation Area, the German Wadden Sea National Parks of Lower Saxony and Schleswig-Holstein (see images) and most of the Danish Wadden Sea maritime conservation area.
To preserve this unique ecosystem, the German coastal states declared it as National Parks and, moreover, the Wadden Sea in Schleswig-Holstein, Lower Saxony and the Netherlands was placed on the UNESCO World Heritage List in 2009.
If you are curious and would like to know more about the remote sensing products of the Wadden Sea, we have been generating for more than 15 years, please feel free to take a look at our application 'Monitoring intertidal flats' .