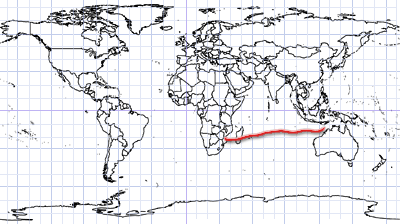 Dates of acquisition:
February 17th, 2023  |  04:50:46 UTC
February 19th, 2023  |  18:05:18 UTC
February 20th, 2023  |  18:41:00 UTC
February 21st, 2023  |  06:28:01 UTC
Sensors: Sentinel-3A, Geostationary Ring IR10.8 μm Image – Multimission
Coordinates:     ca. 23°S, 37°E
On January 30, the Australian Meteorological Bureau started monitoring a weak tropical depression located within the monsoon trough in the Timor Sea.
On February 5, a tropical cyclone warning was issued, which initially developed as a disturbance carried by a monsoon trough and soon became a category 1 tropical cyclone and was named Freddy.
After Freddy reached Category 3, it began to form an eye, weakened slightly, and then became a tropical storm again with winds up to 100 km/h.
Freddy continued to strengthen rapidly, reaching a severe category 4 tropical cyclone with a well-defined eye surrounded by deep convection.
On 15 and 16 February, air pressure dropped to 918 hPa and maximum sustained winds reached 270 km/h, making the storm a category 5 tropical cyclone. On February 18, the cyclone weakened briefly to sustained winds of 205 km/h before strengthening again. Freddy was upgraded to a very severe tropical cyclone the same day. On 20 and 21 February, the cyclone weakened somewhat and reached tropical cyclone status. After a 15-day journey across the Indian Ocean, Tropical Cyclone Freddy hit the central east coast of Madagascar at around 20:00 local time on Tuesday. On February 21, it had already been recorded as a weakening category 3 storm with wind speeds of 185 km/h.
On 22 February, Freddy strengthened again, becoming first a moderate and then a severe tropical storm. However, on 24 February, shortly after making landfall over Mozambique, Freddy rapidly weakened rapidly as it moved westwards and turned into an overland depression by evening.
Freddy is an unusually long-lived and strong tropical cyclone for the Indian Ocean, setting a new record in the Southern Hemisphere. Since its formation near Indonesia on February 5, Freddy has travelled just over 10,000 kilometers across the Indian Ocean in 20 days.
Imagery:
[1] 
2023.02.17, OLCI optical: R:B19, G:B14, B:B13


[2]

 2023.02.17, Left: OLCI optical: R:B09, G:B06, B:B02; Right: SLSTR SWIR: R:S6_radiance_an,  G:S5_radiance_an, B:S4_radiance_an


[3]

2023.02.19 and 2023.02.20, Left and Right: SLSTR brightness temperature: R:S9_BT_in, G:S8_BT_in, B:S_BT_in7


[4]

2023.02.21, Left: OLCI optical: R:B09, G:B06, B:B02; Right: SLSTR brightness temperature: R:S9_BT_in, G:S8_BT_in, B:S_BT_in7


[5] Cyclone Freddy Movie