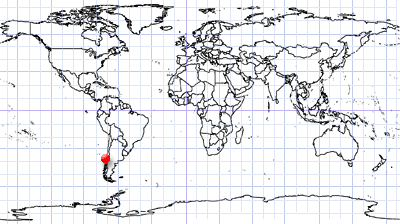 Bío-Bío region | Central Chile
Dates of acquisition:    February 1st-10th, 2023  |  ca. 14:50 UTC for each date
Sensors: Sentinel-2A, Sentinel-3A, Sentinel-5P
Coordinates:     ca. 37.3°S, 72.9°W
Since February 3, 2023, massive wildfires have been raging in south-central Chile. They are triggered by the summer heat and strong winds and there are more than 230 individual fires detected.
In total, up to almost 300000 hectares were burned in the regions of Maule, Suble, Biobio and Auracania. According to the Chilean government, the fires have destroyed at least 1000 homes and killed people. The air quality in the affected areas decreased significantly due to massive development of smoke and the air temperature exceeded 40°C.
Chile has been in a state of drought since 2010, and exceptional high temperatures are caused by warm "Puelche winds" blowing from the east – from the slopes of Argentinean Andes. There may also be human involvement in starting fires, such as welding or burning clothing and animal hair. At least on February 2, almost no fires can be detected in the satellite image, and on February 3, the fire was already raging with might and main and there was a lot of smoke over the ocean.
The largest individual fire spread affecting an area of almost 100000 hectares. It is located ~ 80 kilometres from the small town of Renaico to the northwest along the left bank of the Rio Bio towards the Pacific coast. According to experts, the fires released approximately 4 million tons of carbon into the atmosphere.
The total fire area in Chile this summer is seven times larger than the five-year average; the 13-year mega drought in the central part of the country is the longest in at least 1000 years.
The following satellite are presented:
Sentinel-2

from February 2, where there are almost no forest fires (left),
from February 7, where strongly developed forest fires can be observed –

natural colour image (center)
and short-wave infrared image based on S-2 bands 12,8A,4, showing active fires and many burned areas in the forest, clearly visible here in red and dark red (right);

Sentinel-3

from February 3, showing how quickly the fire is spreading and the size of the smoke plume;

Sentinel-5

10-day (February 1-10, 2023) UV aerosol Index animation showing the north-westward spread of the smoke plumes over the Pacific Ocean.