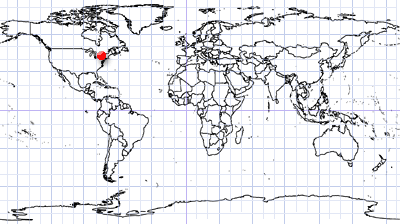 Smoke clouds over New York
State of New York | Northeastern United States
Date of acquisition:    June 6th, 2023  |  15:27:22 UTC
Sensor:   Sentinel-3A OLCI
Coordinates:     ca. 43°N, 75°W
For several weeks, numerous fires have been raging in western Canada, later spreading to the northeast of the country. The smoke from the fires has taken on truly planetary proportions, moving eastwards across large parts of the North American continent and sending plumes of smoke hundreds of kilometres south, across Canada and deep into the United States.
On Wednesday, 7th June, New York City recorded the worst air pollution of any city in the world as smoke from the wildfires in Canada spread to the East Coast and Midwest of the United States. By midday, dusk had sunken and covered the city while the sky had turned orange. Outside New York, strong smells of smoke, dark skies and shortness of breath were reported from Maryland to New Hampshire.
Air quality also deteriorated in other cities in the north-east of the US: Washington, Philadelphia, Baltimore and Richmond.
A huge cloud of smoke then began to dissipate, moving east towards the Atlantic Ocean and then further north-east.
A Sentinel-3 OLCI image taken on June 7 shows a huge opaque cloud of aerosols covering more than 100,000 km2 of the northeastern United States from the Great Lakes to the Atlantic coast and New York.
Weather data from the University of Wisconsin shows this cloud passing over France in the morning of June 29 and then first North Rhine-Westphalia and later over other further parts of Germany.
The animation shows the evolution of the plume over the northern part of the North American continent over the course of half a month.