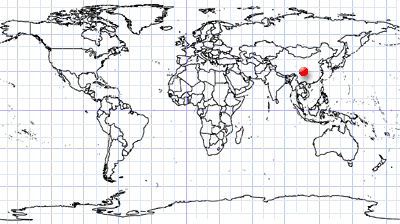 Upper Yangtze River | Eastern Sichuan Province
Dates of acquisition:
January 9th, 2023  |  03:06:00 UTC (S-3A OLCI)
January 8th, 2023  |  03:39:41 UTC (S-2)
Sensors: Sentinel-3A OLCI, Sentinel-2A
Coordinates:     ca. 30°N, 106°E
The Sichuan Basin is part of the Yangtze Craton, which was formed about 800 million years ago. Until about 240 million years ago, the micro continent was surrounded by open sea. Today, the basin, with an area of about 200 thousand km², is surrounded by mountains on all sides and is an integral part of the Eurasian Plate.
The southeast-folded area of the Sichuan Basin is characterised by elongated, sharp sandstone anticlines that extend as narrow ridges at the surface for many tens of kilometres. The broad and flat synclines in between consist of mudstones. In the south of this region lies the Shaximiao Formation, which contains numerous remains of dinosaurs and other prehistoric animals.
The city of Chongqing, located in the south of this area, is the largest city in China in terms of area and population. It is also known as "Fog City". Chongqing is shrouded in a thick layer of advective fog for an average of about 70 days a year. Fog forms over the Yangtze River and then spreads to the surrounding countryside.
Due to its location and natural conditions, the Sichuan Basin itself is often covered in radiation fog, haze and clouds, especially in winter.
In the Sentinel-3 image shown, the Sichuan Basin is partially covered by dense, low-hanging clouds and partially by fog and haze caused by burnt organic matter and high water vapour.
The haze and fog cannot disappear because a warm air layer lies above the colder one hindering the cold air to arise.
A Sentinel-2 image from January 8th is added, allowing to discover some more details in the eastern part of the Sichuan Basin.