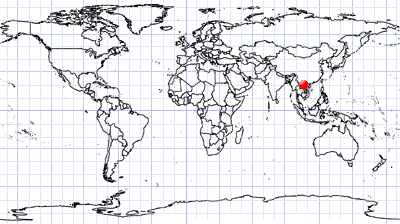 Ha Long Bay's floating fishing villages
Date of acquisition:    October 7th, 2021    |  03:32:22 UTC   &  December 1st, 2021   | 03:32:12 UTC
Sensors:  Sentinel-2A, B L2A
Coordinates:    20.87°N, 106.91°E
The Hạ Long Bay is an area of around 1,500 km² in the Gulf of Tonkin in northern Vietnam. The bay harbours over 1,970 islands, as well as small rocks, cliffs and caves. Both, terrestrial and underwater world, are characterized by high biodiversity.
Residents of the bay mostly live on boats and rafts buoyed by tires and plastic jugs to facilitate fishing, cultivating and breeding of aquatic and marine species. The provincial government has a policy to relocate the households living in the bay, in order to stabilize their life and to protect the landscape of the heritage zone. Only a few fishing villages will remain for touristic reasons.
Two Sentinel-2 images show the situation in the north-western part of the bay between the Bạch Đằng River and Cát Bà Island. Comparing the image from October with the one from December, it is noticeable that at the beginning of wintertime some floating houseboats are moved to areas sheltered against the wind.