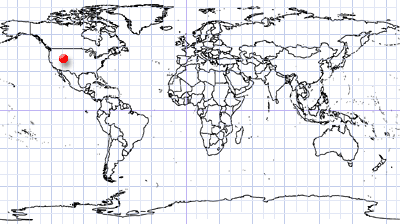 Black Rock desert | Nevada | U.S.
Date of acquisition:    August 29th,2022   |  18:53:20 UTC;  August 7th, 2022  |  19:03:08 UTC
Sensor:  Sentinel-2A,B L2A
Coordinates:    40.7547°N, 119.2364°W
Burning Man is an annual festival in the US state of Nevada in the Black Rock Desert. The salt flats are formed out of glacial Lake Lahontan and are located approximately 150 km north-northeast of the city of Reno. The festival has been taking place here since 1990. It lasts nine days and traditionally ends on the first Monday in September, the US American Labor Day. The festival includes a large art exhibition, is also considered a place for intense self-expression and a big party. Its core event is the burning of an annually changing oversized statue – the Burning Man – on the seventh day of the festival. This year the number of visitors was estimated to be around 80,000. Each participant of the festival is responsible for his life support (food, water, protection from heat, wind, cold, a place to sleep, and so on) and cleaning the desert from any traces of his stay; all this must be taken care of in advance.
Black Rock City is the name of the temporary city created by Burning Man participants. The city is currently arranged out as a series of concentric circle streets. Together they form a 240° arc of approximately 3.6 km circle ring outside diameter with the Burning Man statue in the centre. The arc is inscribed in a regular pentagon with a side of 3 km and an area of about 16 square km. The temperature there during the day rises to 38°- 40°C and at night drops to 20°- 21°C.
The Sentinel-2 satellite  observed the event very well. We are presenting two images here: before and after the city was created within approx. 3 weeks, in which we used Sentinel-2 channels B02, B03, B08.