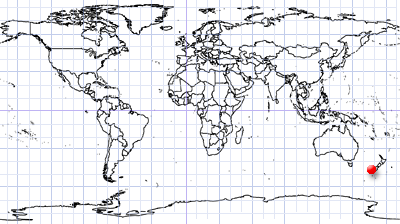 Fiordland National Park | New Zealand
Date of acquisition:   September 1st, 2021  |  22:48:54 UTC
Sensor:  Sentinel-2B L2A  (false colour composite)
Coordinates:    45.91°S, 166.43°E
This satellite image shows the coast of New Zealand's South Island around the West Cape, the westernmost point in the main chain of islands. The only via water accessible coastline is washed by the Tasman Sea and is located within Fiordland National Park.
The coast, open to winds and the sea, is rocky and in places steep with many protruding small islands and underwater rocks. Therefore, a wide surf zone can be observed.
The false colour image composite (near infrared [B08(832,9nm)]/red [B04(664,9nm)]/green [B03(559nm)] points to vegetation, since plants reflect near infrared and green light, while they absorb red.