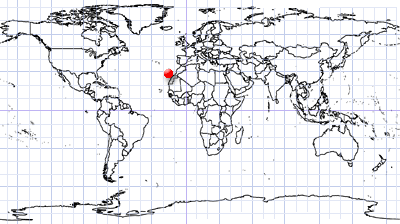 "Bearded" island of Gran Canaria
Candy islands archipelago | Atlantic Ocean
Date of acquisition:    August 8th, 2023  |  11:53:56 UTC
Coordinates:     ca. 27.8°N, 15.6°W
Panza de Burro (donkey's belly) or "mar de nubes (sea of clouds)" as the locals call it, is an expression for a meteorological phenomenon consisting of an accumulation of clouds at low-altitude.
The clouds, which usually form between 500 and 1500 metres above sea level, are characteristic of the north of almost all the Canary Islands (especially Gran Canaria in July and August). This phenomenon is caused by a combination of three factors:
– Atlantic trade wind,
– the Azores anticyclone, which reduces the cloud height,
– the mountainous relief of the island with deep gorges and steep slopes.
The trade winds blowing from the northeast usually push the clouds towards the northern slopes of the mountains, where they accumulate.
In this rare case, the winds shifted around the island, so the clouds covered the southern slopes of the volcano. They resemble a grey shaggy beard on the face of a tanned man.
A similar phenomenon can be observed off the coast of Peru in South America.