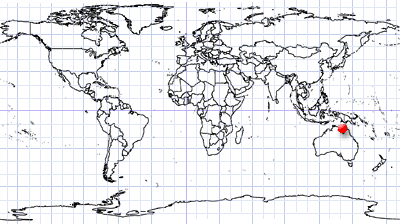 Far North Queensland | Northeast Australia
Date of acquisition:    September 1st, 2023  |  00:50:36 UTC
Coordinates:     ca. 12.63°S, 141.88°E
The image from Sentinel-2 shows structures that remind of the skeletons of autumn leaves or old printed circuit boards. This is actually the region around the town of Weipa in northern Australia. Yellow and burgundy colours contrast with each other , making the image very expressive.
Weipa is a mining town on the west coast of the Cape York Peninsula in Queensland. It is situated in the shores of Albatross Bay, facing the Gulf of Carpentaria , and exists because of the enormous bauxite deposits in its surrounding.
In 1955, in the vicinity of the city, it was discovered that the reddish-brown cliffs, which had been of interest to geologists for a long time, were huge deposits of bauxite, the ore from which aluminum is produced. Bauxite is mined in the Weipa area by Rio Tinto Alcan Company, the world's largest aluminum producer.
At the 2021 census, Weipa had a population of 4097 people. There is a small local airport,  12 kilometers from the city centre.
Although Weipa is located at  the coast  of the Arafura Sea, swimming in the sea is prohibited.  The coastal waters can  be encountered with large dangerous saltwater crocodiles, brutal hunting sharks, deadly poisonous sea snakes and several species of particularly deadly poisonous jellyfish.