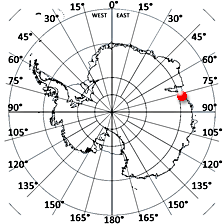 Ingrid Christensen Coast

 |

Princess Elizabeth Land | Antarctica
Date of acquisition:    February 28th, 2023  |  03:37:39 UTC
Coordinates:     ca. 68.6°S, 78.2°E
The "Vestfold Hills" is a coastal region of 30 – 90 metre high rocky hills located on the Ingrid Christensen Coast in Princess Elizabeth Land, Antarctica covering an area of 411 km2. It is bordered by the Sørsdal Glacier in the south, rising slopes of the continental plateau in the east, and the sea in the northwest (68.6°S, 78.2°E). These hills are outcrops of the cratonized Vestfold block. Some volcanic formations have a significant age up to 2.5 billion years. The region is divided into three peninsulas which are disconnected by narrow fjords.
The Vestfold Hills are mostly free of snow and ice and the weather is not so severe here, which is why they are classified as an Antarctic oasis. Mosses and lichens grow here. There are over 300 lakes in this region, including probably the largest concentration of meromictic lakes in the world. (A meromictic reservoir is one in which there is practically no circulation, so that the water of the lower layer is more mineralised and dense than in the upper layer.)
These stratified reservoirs of the Westfold Hills are very diverse. They have a salinity from 4 g/l to 235 g/l, temperature from -14 to 24°C, depth from 5 to 110 meters and a surface level from 30 meters below to 29 meters above sea level.
The lake with green water, located on the south side at the exit of the southern Ellis Fjord, is called Lake Ceinetei. On the coast of Prydz Bay is Davis Station, the southernmost Australian research station in Antarctica, built on a rocky moraine. The station is the capital of the Australian Antarctic Territory. The offshore rocky Rauer Islands are located between the tongue of the Sørsdal Glacier and Ranvik Bay in the south-eastern part of Prydz Bay. They lie south of the Vestfold Hills and are also largely snow and ice free and are home to many lakes.