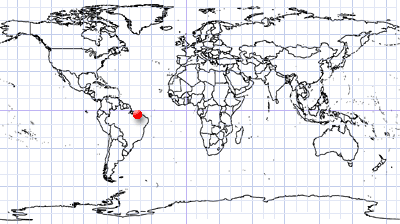 Parque Nacional dos Lençóis Maranhenses
Date of acquisition:    April 24th, 2022  |  13:22:43 UTC
Coordinates:    2.53° S, 43.12° W
The "Parque Nacional dos Lençóis Maranhenses" is an extensive dune area in the north of Brazil. It is located on the coast of the state of Maranhão and covers 1,550 km². It is home to diverse and fragile ecosystems, such as restinga and mangroves as a part of the Cerrado biome.
The Parnaíba and Preguiças rivers transport the dune sand from the interior of the continent to the park. Then the winds blow it up to 50 kilometres inland, where it forms a series of sand dunes, some of which rise up to 40 metres high. This is how Brazil's only desert is created.
The rainfall in the area is about 1,500 milimetres per year. In the rainy season, the rainfall fills the spaces between the dunes with fresh water.
This creates lagoons that are up to 100 metres long and 3 metres deep. Together they cover up to 40% of the park's area. The water in the lagoons is prevented from flowing away by an impermeable layer of rock under the sand surface.
Although temperatures in the desert vary between 16°C and 36°C, the temperature at night is quite comfortable. It hardly varies from year to year and stays at about 23°C. This is the difference to the Sahara desert, where it gets bitterly cold at night.