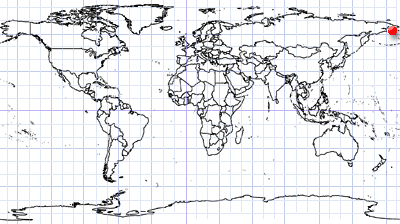 Floating Sea Ice in the Bering Sea
Northern Bering Sea | St. Lawrence Island
Date of acquisition:    June 9th, 2022  |  23:28:35 UTC
Coordinates:     ca. 63°N, 175°W
The Sentinel-2 satellite image shows traces of last winter in the Bering Sea west of St. Lawrence Island.
A month earlier, this place was a huge sea ice field with large ice blocks (see image from 05/12/2022), from which a 260 km long "cloud" of small floating ice floes remained. Most of them only 5 – 30 metres in size and even smaller. In the middle, the ice thickens into a semi-loose brash ice.
Weak ocean currents only slowly bring warming to this place, so that the ice field could remain in a compact form for so long and now represents a beautiful fairytale formation.