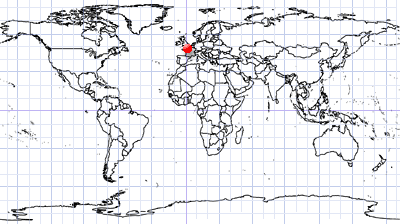 Baie du Mont-Saint-Michel
Normandy, Brittany | France
Date of acquisition:    December 17th, 2021   |  11:17:50 UTC
Coordinates:    48.6375°N, 1.512°W
The Bay of Mont-Saint-Michel is located in the south of the North Sea between west Brittany and east Normandy. Composed of an area of about 500 square kilometers, it is the scene for the highest tides in Europe.
An exceptional tidal range (difference between the highest and lowest point of the water) at the Mont-Saint-Michel Bay is a particularly impressive natural phenomenon. The tide reaches 12 m on average and it can reach up to 16 m during spring tides,  rendering Mont-Saint-Michel completely inaccessible. Two factors make the bay's tide possible: its shallowness and the Cotentin peninsula that forms a natural barrier.
The Bay offers a great diversity of natural environments and thus constitutes the largest expanse of salt meadows and polders in France. The area is also a fertile ground for mussel farming, mainly oysters. Every year, 25,000 tons of this shellfish are harvested at the shores of the Mont-Saint-Michel Bay.
The Mont-Saint-Michel Island (48.6375°N, 1.512°W), listed as World Heritage by UNESCO, is surrounded by a rich history and well-known for its Benedictine abbey built as a fortified monastery in the XI-XVI centuries.
The satellite image taken on December 17th combines three fairly rare events:
the (approximately) longest shadow at noon of the year due to the winter solstice (on December 21st),
very low water level due to spring tides due to the constellation between sun and moon (full moon morning of December 19th),
the cloudless weather that is a rare event at this time of the year.
Just at this time, the satellite flew over the bay and captured such a rare image: Sun azimuth ~169 °, solar zenith angle ~17 °, shadow length of cathedral ~545m.