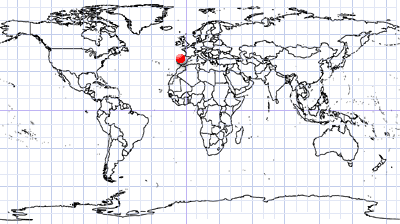 Castilla y León, western Extremadura | Iberian Peninsula Centre
Date of acquisition:    July 13th, 2022  |  11:30:12 UTC
Coordinates:     ca. 40.48°N, 6.28°W
During the second week of July 2022 a heat wave in Europe caused extended forest fires. Several ten thousands of hectares of forest have been burned and thousands of people had to leave their homes.
The heat wave caught Spain in its entirety. In the centre of the country, in Castile and León and the western region of Extremadura, the thermometers exceeded the 40-degree mark.
The satellite image shows the situation along road number CC-55.3 on the border between Extremadura and Castile y León. Locally concentrated convective streams of hot air raise smoke and ash high into the atmosphere, resembling a volcanic eruption. Red and yellow lines and spots in the image are burning vegetation. The coloured image was obtained using combinations of channels in the SWIR and VNIR (2200 nm, 1600 nm, 665 nm, 560 nm, and 490 nm). An image (VNIR: 665 nm, 560 nm, 490 nm) of a larger area illustrates the extent of the smoke.