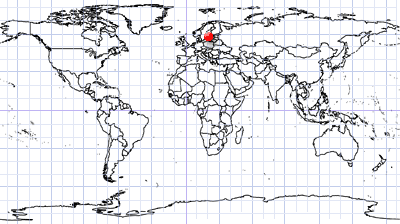 Algal bloom in the Baltic Sea
West of Hiiumaa island | Estonia
Date of acquisition:    July 19th, 2022  |  10:04:15 UTC
Coordinates:     59.1°N, 21.5°E
Cyanobacteria blooms in the Baltic Sea usually reach their maximum in July – early August. Cyanobacteria are the first organisms known to have produced oxygen. Like algae, they obtain energy through photosynthesis. Their abundance grows due to phosphorus and other nutrients brought into the water by over-fertilization. Cyanobacteria can produce toxins, which are harmful and cause severe water quality and health problems. Water samples are needed to determine toxicity.
The image shows a strong cyanobacteria bloom west of the Estonian island Hiiuma. The coloured bloom marks the local flows of water and reveals ship tracks, which sometimes leads to beautiful patterns. Can you find the winged dragon?
Monitoring of cyanobacteria blooms with optical data from Space is only possible when they are not masked by clouds.