"Convective Cells"
"Convection Cells Streets" Cloud Phenomenon (CCSP)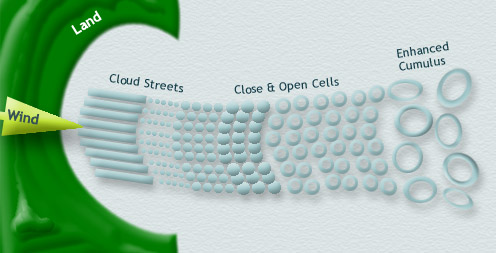 The organization of the clouds in "streets" can be explained by the existence of the horizontal role turbulences in the boundary layer.
The clouds are formed in the upper layer of this roll system.
If outbreaks of the continental cold dry air spread above a neighbouring relatively warm ocean, the cloud streets can be seen.
This takes place frequently behind a cold front.
If the cool air leaves the land or ice surface, its properties changes by vertical transfer of the heat and humidity of the underlying water surface.
An inversion layer is formed and its basis rises with the distance from the coast.
The transformation of air mass leads finally to the formation of the clouds, that, under certain circumstances, the shape of the cloud streets assumes, and develops approximately parallel to the wind direction.
Further the streets develop to the three-dimensional opened cells.
Near the upper-trough the convection is enhanced and Enhanced Cumulus becomes to form.
These structures can be often observed in spring and winter above polar waters, in addition, above cold water of middle latitudes (s. illustration below).